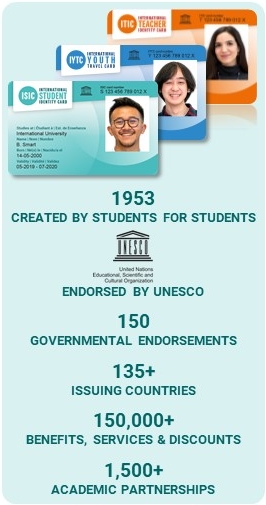 The ISIC card, created by students in 1953 is the only internationally accepted proof of student status, endorsed by the United Nations Educational, Scientific and Cultural Organization (UNESCO) and over 150 governmental institutions.
The ISIC card plays a key supporting role in improving intercultural understanding, increasing educational opportunities and facilitating student life through international status recognition and the provision of exclusive opportunities and benefits to students globally.
The ISIC card is valid in over 135 countries and provides access to over 150,000 benefits, services and exclusive discounts.
Cooperating with over 1,500 academic institutions and local governments, the ISIC provides an internationally proven mechanism of facilitating both social and economic contributions to education and social welfare.
The internationally proven concepts and unified standards of the ISIC help to form a foundation for partnership between governmental, educational and private sectors.
Making student life better
Our goal is to improve the student experience through access to special discounts with the ISIC cards. Allow students, teachers and youth to leverage the benefit network of ISIC on a daily basis.
Support travel and encourage cultural exchange and experience amongst students and youth.
Become benefit partner!
Are you a company interested to provide discounts to students? We are happy to assist you with getting the message across! For further details, please do not hesitate to contact us.
Contact information
e-mail: info@studentcard.ae
Info line: +971 52 672 1924
Legal documents
ISIC history
The ISIC United Arab Emirates is operated by GTS Alive ME DMCC.
GTS Alive ME DMCC is the exclusive representative of the ISIC Association in the United Arab Emirates, the Sultanate of Oman, the Kingdom of Bahrain, the State of Kuwait and the State of Qatar.
GTS Alive ME DMCC is a proud member of the GTS Alive Group.
The GTS Alive Group holds the exclusive distribution and marketing rights to the ISIC (International Student Identity Card, and the related Teacher "ITIC", and Youth "IYTC", variants) and is the leading ISIC card issuer across multiple countries in Europe, the Middle East, South Asia and Oceania.
The ISIC Association is a non-profit organization that issues the International Student Identity Card (ISIC). The card is recognized as the only globally accepted proof of student status and provides students with access to over 150,000 benefits and discounts in more than 130 countries. The ISIC Association's mission is to improve international understanding and education by facilitating student mobility and cultural exchange.